Does your rifle fit you?
Many low cost mass-produced black powder rifles do not fit the shooter; often the pull is too long and the drop is insufficient for the shooter to assume a comfortable shooting position.
What are pull and drop?
Pull is the distance from the trigger to the butt plate. Drop is the distance from the top of the barrel to the top of the stock at the butt plate. If the pull is too long for the shooter, his shoulder is forced back into an unnatural and uncomfortable position. If the drop is insufficient, the shooter will have to push his cheek into the stock in order to see the front and rear sights in proper alignment. Repeated recoil will result in soreness or bruises on the cheek.
One way to determine whether you and your rifle are a good fit is to face your intended target, close your eyes and keep them shut and lift your rifle as though you were going to aim at the target. With your eyes still shut assume the most comfortable shooting stance. If your pull is too long your rifle will likely be pointing to the left with a right-handed shooter. If your drop is insufficient the muzzle of your rifle is very likely to be pointing high over your intended target.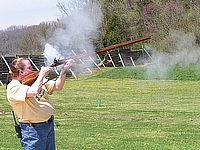 2011 Shoot Schedule
| | | |
| --- | --- | --- |
| Frosty Frolic | Jan. | 9 |
| Cabin Fever | Feb. | 6 |
| Meat Shoot | Mar. | 6 |
| Meat Shoot | Apr. | 3 |
| Tuckmantel | May. | 1 |
| D-day Shoot | Jun. | 5 |
| Hobbs Shoot | Jul. | 3 |
| Meat Shoot | Aug. | 7 |
| Meat Shoot | Sep. | 4 |
| Members Only | Oct. | 23 |
| Turkey Shoot | Nov. | 6 |
| Meat Shoot | DEc. | 4 |